Greetings, fellow ArtStationeers!

2021 was definitely a year that happened. For some it might have been the exciting start of a new chapter in their life; for some a rather undesired continuation of 2020. Working from home for a prolonged time isn't for everyone, and it certainly did affect our team as well. Whatever 2021 has been to you - fingers are crossed that things are moving into the right direction for y'all.
That said, we're happy to note that--regardless of the general circumstances--the team has once again grown over the past year and we were delighted to welcome some fresh faces to the HQ crew. It's also been a delight to see the office a bit more populated again throughout summer with folks who hadn't seen each other in months or actually met for first time. HQ is more or less back in hibernation mode now, but we absolutely cannot wait for it to be more practical, safe and sensible to have more artists in a shared physical space again.

Art, huh? 2021 saw more work on Overwatch (2!), Valorant (yes, that portfolio update is still due), Fortnite, Astroneer, Brawl Stars, Hay Day and such. We tripled our ArtStation output--in part also due to the massive Crash Bandicoot 4 drop--and yet we're still behind. We were also thrilled to see the announcement of the lovely Palia, which we've been contributing to for quite a while now. Going to be sweet to show some of that down the road! Same goes for the environment concepts we got to do for Soundfall. What else is Airborn up to? There are a few projects that we hopefully will be able to mention next year, one of which is already kinda out and available. And then there are those that are still in early R&D tinkering stages and probably won't get announced for quite a while. Exciting stuff though! Big shout-out to the treasured folks who keep roping us in for work and are just a joy to collaborate with.

The grandest of tips to the big 'ol Airborn hat goes out to all the artists out there! To those we have the pleasure of working with and who keep delivering delicious art nuggets. It's magical to see an amazing bunch firing from all cylinders. And to those out there who inspire us, push us, post kind feedback on the work we do, and recommend us to others. Thank you! <3

Lastly, as is tradition: our annual holiday artwork! Last year's had a bit of a hidden message in it. This year's, in one way or another, is more of a team effort than you might expect, and there's a story to be told here that we'll share early next year.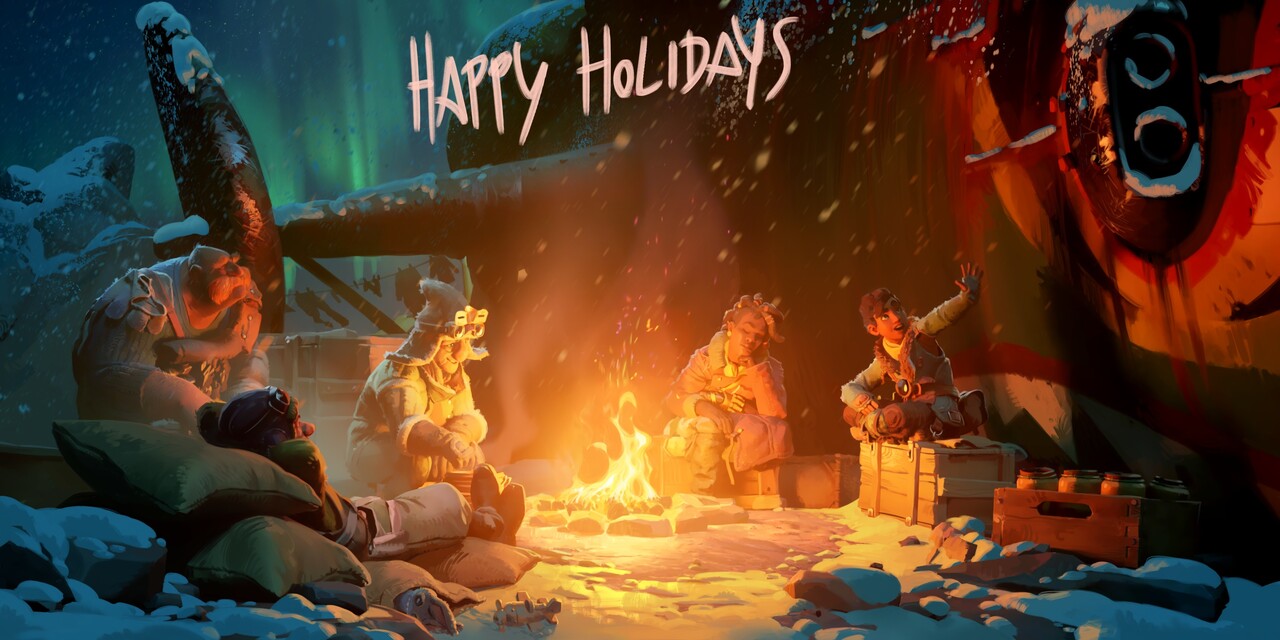 Until then: have a great time with your loved ones or doing whatever else you have planned for the next two weeks. See you in January!

Your Airbornians